We laid strong foundations for the development of Chios. We supported the society, we complete the projects of our generation.
We achieved the substantial reduction of migration flows and the drastic limitation of the effects of the crisis on local societies
We work hard for an economically free, safe and modern Greece, internationally strong.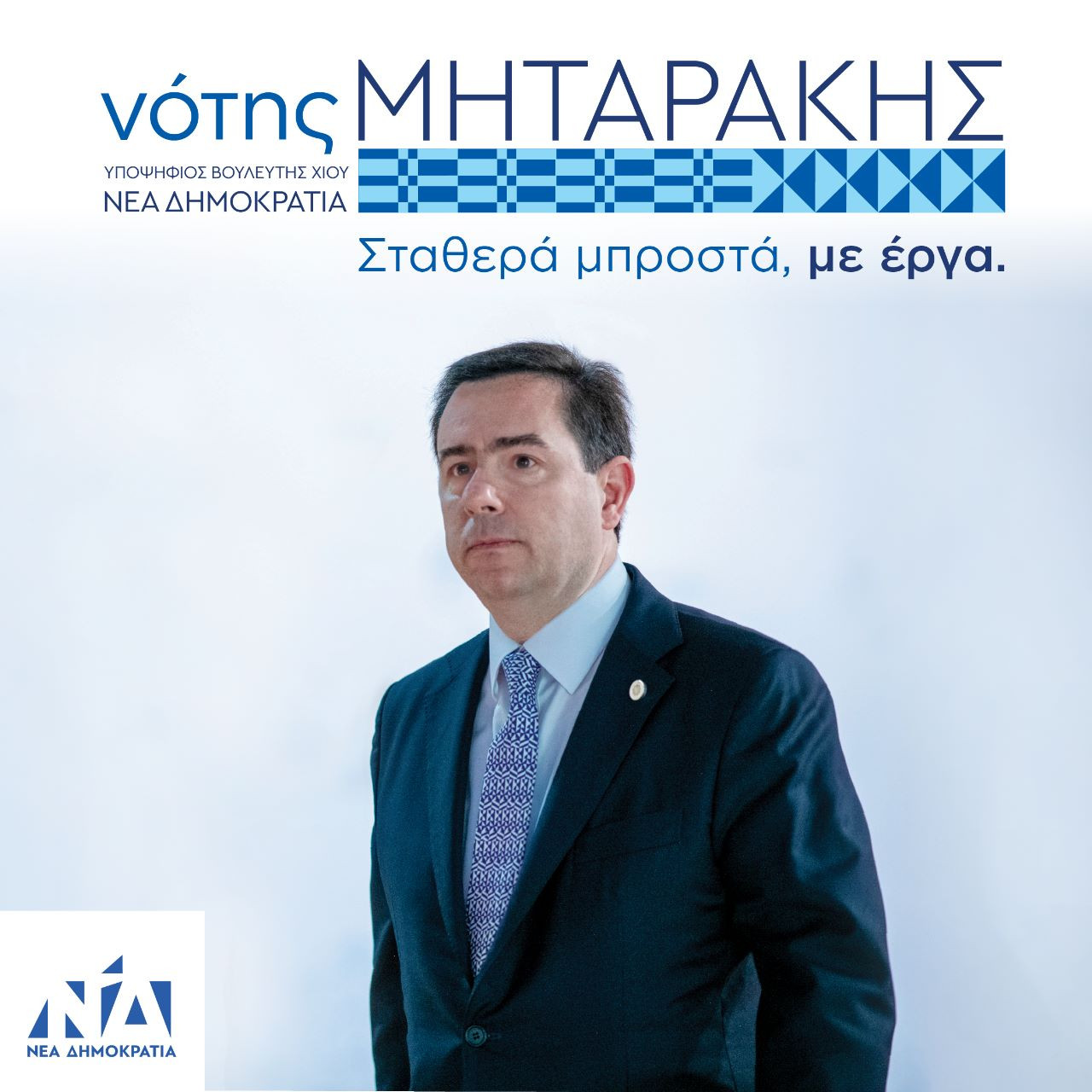 On May 21 for our Chios, the land of our ancestors and children
Chios has been in my life since my first steps... since the summers of my childhood. From my family I learned to be proud of my Chiot origin. From the carefree childhood... to the seats of the Parliament, our island is always in my thoughts, my actions and my plans.I studied, traveled, worked, lived abroad. But I came back here. Because I believe in the island and its people. The conditions are now suitable with the new government of New Democracy and Kyriakos Mitsotakis for Chios to walk the path of development, with new investments and decent jobs, which will keep our children in our place, to grow up for the island us.
Notis Mitarakis
Chios is progressing and developing. The island is now a construction site as "the projects of our generation" are completed and new, private projects begin. We give a development perspective to tourism, shipping, primary production, innovation. On May 21st we proceed with plan and efficiency. Steady ahead, with projects!

Ομιλία Νότη Μηταράκη στη ΔΕΕΠ Χίου
Νότης Μηταράκης
Όσα Είπαμε Τα Κάναμε, Σταθερά μπροστά, με έργα! Δίνουμε έμφαση στην ανάπτυξη της Χίου, ολοκληρώνοντας τα έργα της γενιάς μας. Αποτρέποντας το μεταναστευτικό να μας επηρεάσει ξανά.

Ομιλία Νότη Μηταράκη στη ΔΕΕΠ Χίου
Νότης Μηταράκης
Όσα Είπαμε Τα Κάναμε, Σταθερά μπροστά, με έργα! Δίνουμε έμφαση στην ανάπτυξη της Χίου, ολοκληρώνοντας τα έργα της γενιάς μας. Αποτρέποντας το μεταναστευτικό να μας επηρεάσει ξανά.